To see the changes of China from a shower enclosure
Rosery, a leading brand of shower enclosures in China, launch its new product on the large screen of NASDAQ 10TH Oct. 2017.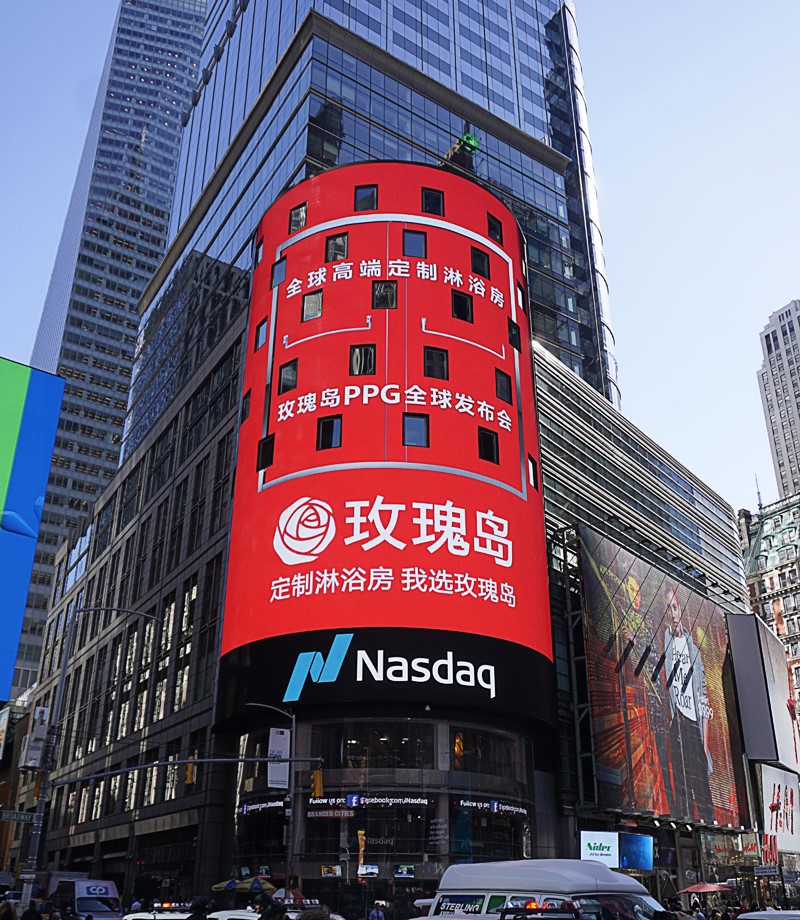 "No strong brnd, low prices", this is the standard impression of Chinese products 20 years ago. But this situation has become the history, Made In China is moving forward to higher filed. In more and more fields, such as Home Appliance, High-speed train, UAV, Communication Equipment,Shipbuilding etc., we are used to put Chinese brand and our national brand together to compare.
How can they make it? According to the detailed market investigation and analyses, we found out 3 main reasons Chinese brand such as Rosery, develop the oversea market:
First, Chinese government push hardly to make "Made in China" move fast to "Making Boutique", now many excellent brand already appeared, they are capable to make high quality products. Take Rosery as an example, it's quality has been praised profusely by plenty of interior designers from Europe and USA.
Second, China has the biggest market in the world, in the past 30 years under reform and opening-up policy, these companies has finished their primitive accumulation, this afford them costly investment on the advertisement.
Third, it's market developing, Chinese entrepreneurs are not satisfied with the success of local market any more, they are eager to bring their products to the whole world. Not just for money, there is also a sense of national pride for many Chinese owners and senior executives to make their own brand become global brand.
Not just international market, China market also has great changes.
Before, Chinese favour the products from Europe and USA, as they thought the imported products gain them the faces. But today, along with the fast quality improving of Chinese products, Chinese consumers are more and more confident with national brand, to buy national products has been regarded as patriotic.
For us, stand at our position of national brand, a very important question to consider is how to face the the rise and challenge of Chinese brand.
Media Contact
Company Name: ZHONGSHAN WEISHA BATH EQUIPMENT CO.,LTD.(Rosery)
Contact Person: Andy Ching
Email: [email protected]
Phone: 86-0760-88407903
Country: China
Website: http://www.rosery.cn