Dawn Dause, Number 1 RE/MAX Realtor and Sponsor of Plainfield Living and Shorewood Living YouTube and Facebook Pages Reveals Tips For Sellers and Buyers On Remarkable Radio Show WCKG AM/FM Chicago
Number 1 RE/MAX Realtor and Sponsor of Plainfield Living and Shorewood Living YouTube and Facebook Pages, Dawn Dause, was the featured guest on Remarkable Radio Show WCKG AM/FM Chicago with host Mark Imperial talking about Tips For Sellers and Buyers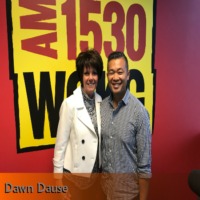 On a recent episode of Remarkable Radio Show WCKG AM/FM Chicago with Mark Imperial, Dawn Dause, Number 1 RE/MAX Realtor and Sponsor of Plainfield Living and Shorewood Living YouTube and Facebook Pages, discussed Tips For Sellers and Buyers.
According to Dause, it takes teamwork to be one of the top producing agents in Illinois.
Dause, said "I actually am the team lead of the group. Then I have a buyer's agent, Janet Letto – she works with a lot of my buyers. Then I also have Debora Schoell, who is my main girl next to me, who's always keeping me in line; and my marketing; and my videos; and paperwork; and pictures – so she keeps everything. I also have Julie Duncan, who is another key asset to my group, who does all my social media for me, and she keeps all of that together. So all of us work very hard together to keep moving the real estate world along, I should say".
When host Mark Imperial asked how she is the most prolific agent in Plainfield and Shorewood Dause answered, "Well, thank you very much. You know, it's a lot of hard work. I'm constantly networking, I'm constantly getting out there. I also think the positive is that I've got really good reviews. I do a great job for clients, and people talk at work. When you do good things and people have good experiences, they go ahead and pass that along. So it's kind of like so on, and so on, and so on. I've been doing it over 15 years, and I am actually one of the top producing agents in Will County and the State of Illinois".
Dause sponsors two brand-new Home Listing Video pages on YouTube and Facebook titled "Plainfield Living" and "Shorewood Living", which are the cities' only websites devoted entirely to daily updates of Home Listing Video, which offers sellers a great place to connect with buyers due to the attractive resources of the sites. The publishing team adds video listings 7-days a week.
Visit https://www.facebook.com/Plainfield-Living-754022441472934/ and https://www.facebook.com/shorewoodliving/
During the Interview Dause shared the advantages of using a professional realtor versus For Sale By Owner, explaining, "That's a very good question. A big thing is that it is a proven fact, and again, our National Association of Realtors, is that we will get a 23 percent higher sales price for you, using a professional agent versus going for sale by owner. You know, there's a lot that goes into it besides just the paperwork — how to negotiate; just the advertising alone; I'm staging the house; getting the house ready for the market. The biggest part is the selling part of that, and that list price. So again, when you're using a professional they do everything for you. You know, again from the pricing, all the way down to the closing at the very end; the inspections; getting you with an attorney. It's the whole ball of wax that helps the transaction go a lot smoother for them. So that's what I feel is a huge component of using a professional agent".
Dawn Dause is a top 20 Will County Agent and Number 1 RE/MAX agent in Plainfield along with many other recognitions. Her specialties include relocation, first-time home buyers and divorces. Her strong family and personal values help Dawn to relate to the choices and decisions that face her clients.
The interview concluded with Dause saying "Now we're going into the fall market, pricing is the key component here. We'll be starting to get a little bit softer once old man winter comes in. But, there's definitely a lot of time for selling and buying now. I'm seeing buying right now really hot again because we're going into the fall market. But again, now is a great time to buy and sell".
To listen to the full interview on Remarkable Radio Show WCKG AM/FM Chicago, visit https://www.wckg.com/remarkableradio/dawn-dause/.
To learn more about Dawn Dause, please visit http://dawndause.com/.
Media Contact
Company Name: Imperial Action
Contact Person: Kathleen Zinser
Email: [email protected]
Phone: (630) 923-5425
Country: United States
Website: http://www.imperialaction.com